Pulmonary siderosis in a welder, diagnosis on unusual pneumopathy
Pneumopathie atypique chez un soudeur : sidérose pulmonaire ?
Introduction Pulmonary siderosis or welder's lung is an occupational lung disease that is usually observed after chronic exposure to iron dust. Observation A 55 years old welder visited hospital with dyspnea linked to occupational exposure. Pulmonary function studies revealed lung function abnormalities with decerase of FEV1 and TPC. Based on the chest Tomography CT results, he was diagnosed with obliterans bronchiolitis. A chest biopsy was performed and the specimen is for a pulmonary siderosis aspect. Discussion This case of pulmonary siderosis is an unusual one by symptoms, CT images and short latency of exposure. An intense inhalation of iron particles could explain this case and inflammatory process and it highlights need of histological analysis of chest biopsy
Introduction La sidérose pulmonaire est une pneumoconiose de surcharge d'origine professionnelle secondaire à l'accumulation de particules de fer au niveau pulmonaire. Observation Un soudeur de 55 ans a présenté une dyspnée à rythmicité professionnelle. Les Epreuves fonctionnelles respiratoires montraient un trouble ventilatoire mixte, les images scanographiques un diagnostic radiologique de bronchiolite oblitérante. L'évolution est défavorable au niveau clinique et spirométriques malgré le traitement et l'éviction. Sur les pièces de biopsie pulmonaire, l'analyse histologique et minéralogique met en avant un diagnostic de sidérose. Conclusion Ce cas décrit une pneumopathie, atypique pour une sidérose pulmonaire par l'intensité des symptômes, les signes radiologiques et le court délai de latence de début d'exposition. Une exposition massive à des particules de fer sur un terrain prédisposé serait à l'origine de ce processus inflammatoire et l'analyse histologique est nécessaire à la confirmation du diagnostic.
Fichier principal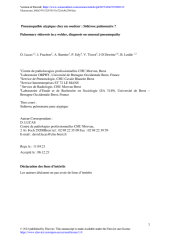 Pneumopathie atypique chez un soudeur.pdf (282.39 Ko)
Télécharger le fichier
Origin : Files produced by the author(s)