L'aide à la coordination des activités d'éducateurs sportifs : une démarche articulant analyse de l'activité collective et développement du partage
The paper aims at describing a collaborative experience between a researcher and a team of sport coaches. We made the assumption that the research program could help to enhance coordination between coaches in a soccer school. The device introduced semi-structured interview, crossed self-confrontation interview, and collective interview in order to analyze coaches' activity in order to develop it. Data showed that collective activity development resulted from dilemma inherent to the coaching field. Device's effects are discussed in relation to Shared Understanding framework. These results should support principles for program conception in an adults' training context.
Dans une perspective de formation continue, cet article présente une expérience de collaboration entre un chercheur en sciences de l'éducation et une équipe d'éducateurs sportifs. L'objectif était d'améliorer la coordination de leurs activités au sein d'une école de football. Fondé sur l'hypothèse du rôle transformatif que peuvent jouer l'analyse de l'activité et les dilemmes issus de cette analyse, un dispositif en trois phases a été mis en oeuvre et divers matériaux empiriques ont été recueillis. Les effets du dispositif sont présentés (modalités d'évolution et indicateurs du partage) et discutés en relation avec le concept de partage. Ils permettent de conforter des principes de conception de dispositifs collaboratifs de formation d'adultes.
Fichier principal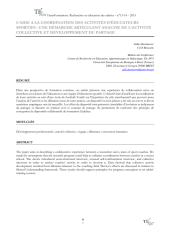 Kermarrec & Bossard (2015)-TranFormations.pdf (233.49 Ko)
Télécharger le fichier
Origin : Files produced by the author(s)