La pêche artisanale sénégalaise à l'épreuve de la cogestion : le local désormais utilisé comme échelle de planification des politiques de pêche
The objective of this article is to present the potential and limits of the co-management of artisanal fisheries in Senegal. The method consisted of carrying out extensive investigation work in the various local artisanal fishing councils (CLPAs) established along the Senegalese coast. The interview guide and questionnaire submitted to fishery stakeholders and CLPA leaders focused on 40 indicators inspired by scientific literature. These indicators are divided into three categories : "governance", "natural systems" and "populations and livelihoods". They cover all dimensions of co-management as implemented in Senegal. The analysis reveals that the CLPAs struggle to fully assume the leadership role assigned to them by the State and their social base. Given their financial dependence on the State and development partners, they have little capacity for influence and limited socio-political positioning. This weak self-assertion at the local level is also linked to the fragility of their organizational base, which ultimately compromises their economic and ecological performance. The local governance framework is characterized by the superposition of several local entities (economic interest groups [EIG] and associations) that lack any coordination and operate in a logic of competition. Despite these limitations, which are mainly organizational and economic in nature, the co-management of artisanal fishing has potential. Beyond positioning themselves as a new local framework for fishery management, the CLPAs have started restructuring the local institutional architecture and offer spaces where to build initiatives, both technical (to ensure the sustainability of fishery resources) and socioeconomic (to improve the livelihoods of fishing stakeholders). Overall, the governance of fisheries in Senegal is split into a directive management framework which is gradually crumbling and a new style (co-management) which is slow to take hold.
L'objectif de cet article est de présenter les potentiels et les limites de la cogestion des Pêcheries artisanales au Sénégal. La méthode a consisté à mener un long travail d'investigation dans les différents conseils locaux de pêche artisanale (CLPA) implantés le long de la côte sénégalaise. Les outils de la collecte soumis aux acteurs de la pêche et aux dirigeants des CLPA se sont focalisés sur 40 indicateurs inspirés de la littérature scientifique. Ces indicateurs sont répartis en trois catégories : « Institutions et gouvernance », « Systèmes naturels » et « Personnes et moyens de subsistance ». Ils couvrent toutes les dimensions de la cogestion telle que mise en œuvre au Sénégal. L'analyse révèle que les CLPA peinent à assumer pleinement le rôle de leadership qui leur est assigné par l'État et leur base sociale. Compte tenu de leur dépendance financière vis-à-vis de l'État et des partenaires de développement, leur capacité d'influence reste faible et leur positionnement sociopolitique, limité. Cette faible affirmation à l'échelle locale est également liée à la fragilité de leur base organisationnelle, qui compromet finalement leur performance économique et écologique. Le cadre de gouvernance locale est marqué par la superposition de plusieurs entités locales (groupements d'intérêt économique [GIE] et associations) sans coordination qui évoluent dans une logique de concurrence. Malgré ces limites d'ordre principalement organisationnel et économique, la cogestion de la pêche artisanale présente des potentialités. En plus de se positionner comme un nouveau cadre local pour la gestion des pêches, les CLPA ont entamé une recomposition de l'architecture institutionnelle locale et constituent des espaces de construction d'initiatives techniques (pour la durabilité des ressources halieutiques) et socioéconomiques (pour l'amélioration des moyens d'existence des acteurs de la pêche). Globalement, la gouvernance des pêches au Sénégal est partagée entre une gestion directive qui s'effrite progressivement et une nouvelle forme, la cogestion, qui tarde à s'imposer efficacement.
Fichier principal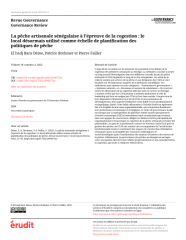 1094075ar.pdf (548.9 Ko)
Télécharger le fichier
Origin : Publisher files allowed on an open archive