Comment réarticuler les différentes dimensions de la marche urbaine ?
For reasons relating to the environment, health and attractiveness, among others, urban actors are giving renewed importance to walking. However, while they have expertise in the provision of places for walking for leisure (green spaces, pedestrian areas in commercial or heritage districts, etc.), they have little knowledge of the facilities dedicated to walking and its integration into the transport system. This is partly due to the disarticulation of conventional knowledge: while quantitative approaches to pedestrian mobility see it as a marginal transport function measured by the modes of transport, qualitative approaches restrict it to a subjective experience without the rationality of travel. In order to restore the unity of walking, we have implemented a hybrid methodology in the study of the functioning of a part of the rue du Faubourg du Temple in Paris, chosen in agreement with the municipal services because of the intensity of the uses and the dysfunctions of new developments (pedestrian area, meeting zone). Pedestrian mobility behaviors and interactions of pedestrians with each other and with other humans and non-humans present were addressed through the analysis of street morphology and data concerning transportation, activities and residents, using survey techniques (observations, interviews, questionnaires and mind maps) coupled with 24-hour video recordings (GoPro). The objective of this chapter is to show how this hybridization is able to capture the complexity of walking in the city.
Pour des motifs tenant, entre autres, à l'environnement, à la santé et à l'attractivité, les acteurs urbains donnent une importance renouvelée à la marche. Mais s'ils disposent d'une expertise sur l'offre de lieux pour la marche-loisir (espaces verts, secteurs piétonniers dans des quartiers commerciaux ou patrimoniaux, etc.), ils maîtrisent mal les aménagements dédiés à la marche-déplacement et à son insertion dans le système de transports. Cela s'explique en partie par la désarticulation des connaissances conventionnelles : alors que les approches quantitatives de la mobilité pédestre n'y voient qu'une fonction de transport marginale mesurée à l'aune des modes véhiculés, les approches qualitatives la restreignent à une expérience subjective sans la rationalité relative au déplacement. Pour restituer son unité à la marche, nous avons mis en place une méthodologie hybride dans l'étude du fonctionnement d'une partie de la rue du Faubourg du Temple à Paris, choisie en accord avec les services municipaux à cause de l'intensité des usages et de dysfonctionnements de nouveaux aménagements (aire piétonne, zone de rencontre). Les comportements de mobilité pédestre et les interactions des piétons entre eux et avec les autres humains et non-humains présents ont été abordés à travers l'analyse de la morphologie de la rue et des données concernant les transports, les activités et les résidents, par des techniques d'enquête (observations, entretiens, questionnaires et cartes mentales) couplées à des enregistrements vidéo (GoPro) sur 24 heures. L'objectif de ce chapitre est de montrer comment cette hybridation est en mesure de rendre compte de la complexité de la marche en ville.
Fichier principal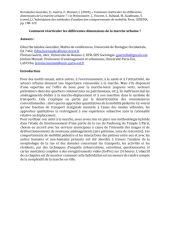 Hybridation_methodo-proposition-EHG.pdf (1.9 Mo)
Télécharger le fichier
Origin : Files produced by the author(s)