Formation of Heteropolynuclear Lanthanide Complexes Using Macrocyclic Phosphonated Cyclam-Based Ligands
Ligands based on a cyclam and a cross-bridged cyclam scaffold functionalised at N1 and N8 by 6-phosphonic-2-methylene pyridyl groups are described. A family of complexes has been prepared with Ln3+ (Lu, Tb, Yb, Eu). The solution, structural, potentiometric and photophysical data for these novel ligands and their complexes have been investigated, including solid-state study by X-ray diffraction as well as UV-Vis absorption and luminescence spectroscopy in water with interesting energy transfer properties.
Des ligands basés sur un cyclam et un cyclam cross-bridged fonctionnalisés en N1 et N8 par des groupes 6-phosphonique-2-méthylène pyridyle ont été synthétisés. Une famille de complexes a été préparée avec Ln3+ (Lu, Tb, Yb, Eu). Les propriétés en solution, structurales, potentiométriques et photophysiques de ces nouveaux ligands et de leurs complexes ont été étudiées, y compris à l'état solide par diffraction des rayons X ainsi que l'absorption UV-Vis et la spectroscopie de luminescence dans l'eau avec des propriétés de transfert d'énergie intéressantes.
Fichier principal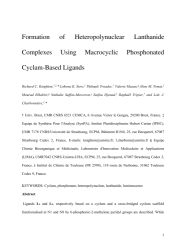 manuscript_lanthanides_InorgChem_Proofs.pdf (1.73 Mo)
Télécharger le fichier
Origin : Files produced by the author(s)