CREATIVITY AND INNOVATION PROCESSES
Companies are eager to provide innovative products due to the current economic pressure which is in part due to globalisation. Current technological innovations tend to introduce a larger immaterial part into new products as the rates of return expected by investors become shorter and scale effects are expected. In terms of immaterial products in computer sciences two categories of groups are able to respond with adequate innovation levels. These two groups are large international corporations and freelance designers who create networks over which to communicate and share information. Yet the fundamental difference between creativity and innovation can lead to a conflict of interest between them, the designers and innovative companies. A conflict has already started opposing the two groups. Large corporations have a tendency to lobby parliamentarians to favour their interests and to bring to court some innovative uses of new technologies. Some users fight against this by proving to be very creative and inventing further solutions avoid the restrictions and by forming and joining user defence associations. It can be said that by maintaining a high level of diversity and a freedom of creativity the benefits would be seen by all parties. If one looks at the long term effects of products, it is plausible to believe that the economic weight of the products created by freelance designers, who do not think of innovation in its industrial form, is more important than that of innovative products which are created by the oligopolies that control most of the markets. The discussion closes on proposals for the creation of legal and exchange structures for isolated designers or networks which would help create links between the designers and users or economic links via innovative companies.
La pression économique attisée par la mondialisation pousse les entreprises à la course aux produits innovants. L'innovation technologique s'oriente vers l'introduction de nouveaux produits qui contiennent une partie immatérielle grandissante à cause des délais rapides de retour sur investissement imposés par les investisseurs et d'effets d'échelle. Dans le domaine de l'immatériel de nature informatique deux catégories d'organisations humaines arrivent à soutenir une telle course à l'innovation, d'une part les entreprises internationales géantes, d'autre part les groupes de créateurs libres en réseau qui communiquent et informent via les nouvelles technologies de l'information et de la communication. Or la différence de nature entre la créativité et l'innovation peut déboucher sur une opposition d'intérêt entre les créateurs et les entreprises innovantes. Un duel entre ces deux modèles d'organisation a déjà commencé, les grandes entreprises exercent des pressions sur les parlementaires pour qu'ils légifèrent en faveur de leurs intérêts, elles poursuivent en justice certains usages innovants des nouvelles technologies. Les usagers créatifs réagissent en inventant des solutions de contournement toujours plus perfectionnées et en formant des associations de défense. Pourtant le maintien de la diversité et de la créativité libre serait dans l'intérêt des uns, des autres, et de la société dans sa totalité, car si l'on prend en considération l'effet longue traîne il est plausible que l'importance économique globale des produits conçus par des créateurs libres, qui ne se soucient pas d'innovation au sens industriel, soit plus grande que celle des produits innovants produits par les oligopoles qui dominent les marchés. La discussion se termine sur des propositions d'aménagement d'espaces légaux et aussi d'échange pour les créateurs isolés ou en réseau qui permettraient des relations directes entre créateurs et utilisateurs ou des relations économiques par l'intermédiaire d'entreprises innovantes.
Fichier principal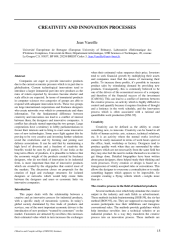 creativity_and_innovation_processes_JV_en.pdf (55.87 Ko)
Télécharger le fichier
creativity_and_innovation_processes_JV_fr.pdf (58.17 Ko)
Télécharger le fichier
Origin : Files produced by the author(s)