Vitis biturica, cépage des Bituriges Cubes ? L'archéologie de la vigne dans le Berry antique
This paper aims first to confirm the existence as soon as the 1st century AD of viticulture in the civitas of the Bituriges Cubi. A series of data – pips, pruning-knives, iconographical documentation, regional amphorae – led scholars to consider wine production and trade within this civitas of Central Gaul. The decisive argument has been brought by the two vineyards uncovered during a rescue excavation and dated to the Early Empire, exactly on the outskirts of Avaricum. Secondly in the light of these findings, we'll reconsider the invention of the Vitis biturica as designated by Columella, Pliny the Elder and Isidore of Seville when they report the creation of this new variety of vine. The Bituriges tribe is divided into two branches: the Cubi stayed in the original territory situated between the Loire and the Creuse rivers and the Vivisci settled along the Gironde estuary around Bordeaux. Since the ancient writers didn't give any precise detail, contemporary authors wonder in which region the Vitis biturica has been developed, Berry or Bordelais? Following Camille Jullian, Roger Dion and Roland Étienne all the researchers consider that this prolific vine, adapted to a poor soil, which resists to cool climate, with aging ability as written by Latin authors, must necessarily have been obtained by Vivisci vine growers, being the ancestor of the famous Bordeaux vineyards. However it seems now necessary to look over again this historiographical tradition and to reassess all the documents already collected.
Cet article se fixe un double objectif, d'abord confirmer l'existence dès le Ier s. apr. J.-C. de la viticulture dans la cité des Bituriges Cubes. Un certain nombre d'indices – pépins de raisin cultivés, serpes, documents iconographiques, amphores régionales – invitait les chercheurs à considérer que du vin était produit et commercialisé dans cette cité du centre de la Gaule. L'argument décisif a été la découverte, en fouille préventive, de deux vignobles du Haut-Empire aux portes mêmes d'Avaricum/Bourges. Il s'agit ensuite de revisiter, à la lumière de ces découvertes, l'invention de la Vitis biturica, ainsi que la désignent Columelle, Pline l'Ancien et Isidore de Séville qui ont salué l'apparition de ce nouveau cépage. Il existe en effet deux branches du peuple biturige : les Cubes, qui sont restés à l'emplacement du territoire historique sis entre Loire et Creuse, et les Vivisques, qui se sont installés sur les bords de la Gironde, autour de Bordeaux. Comme les auteurs antiques n'ont pas donné de précision, les auteurs modernes s'interrogent sur la région où la Vitis biturica a été mise au point : le Berry ou le Bordelais ? À la suite de Camille Jullian, de Roger Dion et de Roland Étienne, l'ensemble des chercheurs considère que cette vigne féconde, qui s'accommode d'un sol pauvre, qui supporte le froid, qui vieillit bien comme le disent les auteurs latins, n'a pu être obtenue que par les vignerons vivisques, préfigurant ainsi la gloire du vignoble bordelais. Or, il nous semble aujourd'hui indispensable de nous interroger sur cette tradition historiographique et de réexaminer chaque pièce du dossier.
Fichier principal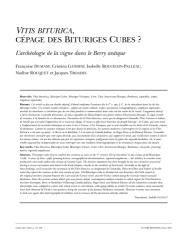 Gallia_68-1_111-150_DUMASY.pdf (4.79 Mo)
Télécharger le fichier
Origin : Publisher files allowed on an open archive