La représentativité des échantillons issus d'access panels en ligne : une question majeure pour l'avenir des études de marché.
The development of online access panels deeply upsets the market surveys' landscape. Although they are presented by their owners as very successful tools, they often arouse important scientific questioning, particularly as regards the representativeness of the samples arising from them and therefore, the validity of the gathered information. In this paper, all the sources of error which can affect the representativeness of samples extracted from online access panels are analyzed, as well as the means to anticipate or to fix them. The main purpose is to provide the users of such devices with elements that will help them to evaluate their quality.
L'essor des access panels en ligne a bouleversé en profondeur le paysage des études de marché. Souvent présentés par leurs propriétaires comme des outils très performants, ils suscitent toutefois d'importantes interrogations scientifiques, particulièrement en ce qui concerne la représentativité des échantillons qui en sont issus et, partant, la validité des informations obtenues. Dans cet article, sont analysées toutes les sources de biais susceptibles d'affecter la représentativité des échantillons extraits d'access panels en ligne, ainsi que les moyens de les prévenir ou d'y remédier. Le but est notamment de permettre aux utilisateurs de tels dispositifs de disposer d'éléments les aidant à en apprécier la qualité.
Fichier principal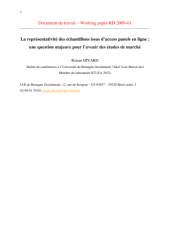 document_de_travail_-_La_reprA_sentativitA_des_A_chantillons_issus_da_access_panels_en_ligne_une_question_majeure_pour_la_avenir_des_A_tudes_de_marchA_.pdf (463.56 Ko)
Télécharger le fichier
Origin : Files produced by the author(s)