La rédaction d'une histoire de vie chez les personnes âgées : fondements conceptuels, dimensionnement et proposition d'une échelle de mesure des motivations au récit de vie
This article concerns a relatively unknown phenomenon in marketing that has become, however, extremely popular among older adults: legacy writing. While the writing of "ego-documents" has been the subject of many studies in gerontology, sociology and, above all, literature, research in marketing has yet to examine its specific components. The purpose of this article is to identify the concept of legacy writing and propose an initial scale to the academic and managerial community for measuring the motivations underlying this practice. Two sets of data collected with questionnaires (202 and 508 responses) have been used to develop and confirm the validity of a scale consisting in twenty items, divided into six dimensions (flattering the ego, mending the ego, being remembered, sharing, transmitting, and bearing witness). This research offers a contribution to the theoretical corpus on special objects and intergenerational transmission. It demonstrates that the meaning of a special object is not exclusively restricted to symbolic references that may be lost or denatured, but others that are explicit and inscribed at the very core of the object.
Au cours de cet article nous nous intéressons à un phénomène peu connu en Marketing et qui suscite pourtant un véritable engouement chez les personnes âgées: la rédaction de l'histoire de vie. Alors que la pratique des " écritures du moi " a fait l'objet de nombreuses recherches en gérontologie, en sociologie, et surtout en littérature, aucune recherche marketing n'a porté sur ces comportements spécifiques. L'objet de cet article est d'identifier le concept de récit de vie et de proposer à la communauté académique et managériale une première échelle de mesure des motivations qui le sous-tendent. Deux recueils de données par questionnaires (202 et 508 réponses) ont permis de développer et de valider une échelle de mesure composée de vingt items répartis sur six dimensions (flatter l'ego, réparer l'ego, ne pas être oublié, partager, transmettre et témoigner). Ce papier constitue une contribution au corpus théorique sur les objets spéciaux, et la transmission intergénérationnelle. Il montre que la signification d'un objet spécial ne relève pas uniquement des évocations symboliques qui peuvent se perdre ou être dénaturées mais qu'elles peuvent être explicites et inscrites au cœur même de l'objet.
Fichier principal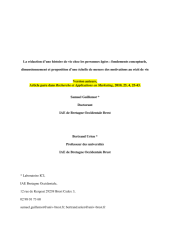 RAM_2010_Guillemot_Urien_Version_auteurs.pdf (439.77 Ko)
Télécharger le fichier
Origin : Files produced by the author(s)