Simulation Tools and Methods of Physical Phenomena for Smart City
Outils et méthodes de Simulation des phénomènes physiques dans le cadre de villes intelligentes.
Many physical phenomena can be modeled as the propagation of sound or radio waves, the fluids flow, the distribution of gas, the dispersion produced in a river, etc. With the help of the AC we can deduce very realistic situations. In previous work, we simulated the propagation of sound in the city using cellular automata, taking into account the urban parameters. In that works, we used horizontal bars to simulate the presence of obstacles (buildings and others) in the sound propagation environment. These obstacles have been defined with arbitrarily fixed coefficients of resistance. In this paper, we rely on the models and algorithms proposed in previous works, to observe the behavior of our simulations of sound, in a concrete environment of obstacle. For this we use NetGen[1], which is a map processing tool. PickCell allows us to analyze the behavior of sound in a concrete environment
De nombreux phénomènes physiques peuvent être modélisés comme la propagation du son ou des ondes radio, le débit des fluides, la diffusion de gaz, la dispersion produite dans une rivière, etc. A l'aide des Automates cellulaires (CA) nous pouvons produire des situations très réalistes. Dans des travaux antérieurs, nous avons simulé la propagation du son dans la ville en utilisant des automates cellulaires et en tenant compte des paramètres. Dans ce travail, nous avons utilisé des barres horizontales pour simuler la présence d'obstacles (bâtiments et autres) dans l'environnement de propagation du son. Ces obstacles ont été définis avec des coefficients de résistance arbitrairement fixés. Dans cet article, nous allons nous appuyer sur les modèles et algorithmes proposés dans les travaux précédents, pour observer le comportement de nos simulations sonores, de manière concrète dans l'environnement et ses obstacles. Pour cela, nous utilisons NetGen [1], qui est un outil de traitement de carte. PickCell nous permet d'analyser le comportement du son dans un environnement concret.
Fichier principal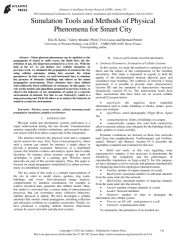 Article2.pdf (1.43 Mo)
Télécharger le fichier
Origin : Publisher files allowed on an open archive