Dendritic Cell Targeting mRNA Lipopolyplexes Combine Strong Antitumor T-Cell Immunity with Improved Inflammatory Safety
In vitro transcribed mRNA constitutes a versatile platform to encode antigens and to evoke CD8 T-cell responses. Systemic delivery of mRNA packaged into cationic liposomes (lipoplexes) has proven particularly powerful in achieving effective antitumor immunity in animal models. Yet, T-cell responses to mRNA lipoplexes critically depend on the induction of type I interferons (IFN), potent pro-inflammatory cytokines, which inflict dose-limiting toxicities. Here, we explored an advanced hybrid lipid polymer shell mRNA nanoparticle (lipopolyplex) endowed with a trimannose sugar tree as an alternative delivery vehicle for systemic mRNA vaccination. Like mRNA lipoplexes, mRNA lipopolyplexes were extremely effective in conferring antitumor T-cell immunity upon systemic administration. Conversely to mRNA lipoplexes, mRNA lipopolyplexes did not rely on type I IFN for effective T-cell immunity. This differential mode of action of mRNA lipopolyplexes enabled the incorporation of N1 methyl pseudouridine nucleoside modified mRNA to reduce inflammatory responses without hampering T-cell immunity. This feature was attributed to mRNA lipopolyplexes, as the incorporation of thus modified mRNA into lipoplexes resulted in strongly weakened T-cell immunity. Taken together, we have identified lipopolyplexes containing N1 methyl pseudouridine nucleoside modified mRNA as potent yet low-inflammatory alternatives to the mRNA lipoplexes currently explored in early phase clinical trials.
La vectorisation d'ARN in vivo avec un système de ciblage des cellules dendritiques est réalisée en utilisant un lipopolyplexes signifiant que l'ARN est compacté par un polymère (polylysine hystidinylée) et d'un liposome incluant des motifs trimannoses pour le ciblage des cellules dendritiques. Dans cette étude ce système de vectorisation est comparé aux lipoplexes (liposomes + ARN). Dans cette étude un ARN modifié a été utilisé dans lequel l'uridine est remplacée par une pseudo-uridine méthylée sur l'azote N1. Il est montré que l'utilisation des lipopolyplexes associés à l'ARN modifié permet d'obtenir une activation des lymphocytes T qui se traduit par une réduction de la croissance des tumeurs sans induire de réponse immunitaire induite par l'interferon type I.
Fichier principal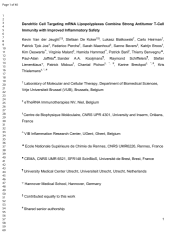 Van der Jeught et al_2018_Dendritic Cell Targeting mRNA Lipopolyplexes Combine Strong Antitumor T-Cell.pdf (858.25 Ko)
Télécharger le fichier
Origin : Files produced by the author(s)