'Kleiz Breizh' rhetoric
La rhétorique "Kleiz Breizh"
The variety of Breton used in a contemporary novel such as Piv a glevo? [who will hear?] immediately marks it out as a recent work in the literary history of Breton. The 'literary' and 'disparitarian' registers of Breton were not mutually exclusive options as far as Herve Ar Gall was concerned. It was as if he was trying to blur the sociolinguistic boundaries with his abundant use of colourful expressions alongside terms derived from a form of Neo-Breton. He did not choose between the pseudo-norm and the vividness of the popular variety but drew alternately from both registers. This enunciative diversity can be considered a deliberate literary choice made by the author to convey a political message to his reader.
La variété de breton utilisée dans un roman contemporain tel que Piv a glevo ? [Qui entendra ?] permet immédiatement d'identifier ce roman comme une œuvre récente dans l'histoire littéraire du breton. Or, le choix du breton « littéraire » ou « disparitaire », n'est pas une exclusive chez Herve Ar Gall : comme s'il s'employait, dans son texte, à brouiller les pistes sociolinguistiques. En plus de termes issus d'une forme de néo-breton, l'auteur emploie aussi de nombreuses expressions imagées. Entre la pseudo-norme et la truculence de la variété populaire, Herve Ar Gall ne choisit pas, mais pioche alternativement dans les deux registres. On peut considérer que cette diversité énonciative est un choix littéraire qui s'explique par le message politique que l'auteur souhaite transmettre à son lecteur.
Fichier principal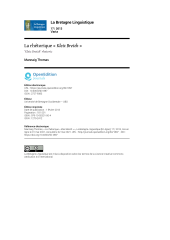 lbl-1897.pdf (701.55 Ko)
Télécharger le fichier
Origin : Publisher files allowed on an open archive